Narrowing the Digital Divide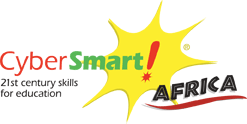 Partnering with USAID, the Senegalese Ministry of Education and the Earth Institute at Columbia University we've been actively testing and refining the CyberSmart Learning Platform. A single box (containing the computer, projector, speakers, and rechargeable battery), quality learning content, and ongoing teacher trainind, it is based on the Android operating system and includes the functionality of a tablet and smartphone – plus additional custom-built innovations. Innovative, but highly practical. Read more.
A Digital Learning Company
We launched the very first digital literacy curriculum fourteen years ago. We did so with a very different—and substantially more effective—message than all the other organizations. CyberSmart embraced a research-based strategy of positive empowerment fostering 21st century skills.
Our interest in Africa began in 2006 with our personal volunteer initiative. Our attention quickly moved to leveraging our professional expertise. We began working at the grassroots to test and refine a practical and scalable way to deliver a 21st century education in developing countries.